From the 08th of March to the 20th of July the Palazzo Strozzi is hosting a unique exhibition under the name "Pontormo and Rosso Fiorentino. Divergent paths of mannerism."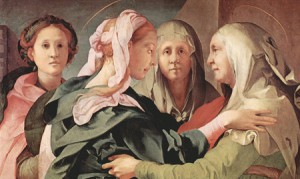 Visitors can admire the great masterpieces of the artists Jacopo da Pontormo (1494-1557) and Rosso Fiorentino (1494-1540), both original and unconventional adepts of a period in the Cinquecento that Girgio Vasari called "modern manner". Both artists were trained by Andrea del Sarto in Florence, where they maintained a strong independence and enormous freedom of expression in their work.
After Pontormo, who had come to Florence in 1508, had established his reputation, he became one of the favorite painters of the Medicis. Among others he painted the famous portrait of Cosimo de' Medici called "The Old". Pontormo was a painter open to stylistic variety and always willing to renew the traditional approach to composition.
Rosso however, who got this name thanks to his red hair, was tightly bound to tradition. Yet at the same time his work is boasting with originality and innovation. He was highly influenced by Cabalistic literature and esoteric works.
The exhibition is curated by Antonio Natali (director of the Uffizi Gallery) and Carlo Falciani (lecturer in art history). For the very first time the masterpieces of these great painters are brought together from Italy and abroad to compare and experience the cultural variety and cultural complexity of the time called "Mannerism".  The exhibition, arranged chronological and regarding subject matters, allows a new way of interpretation not only for experts but also for interested people.
To visit the exhibition without queuing pre-book you tickets by calling us under +39 0552670402 or write us an email: info@italy-travels.it.