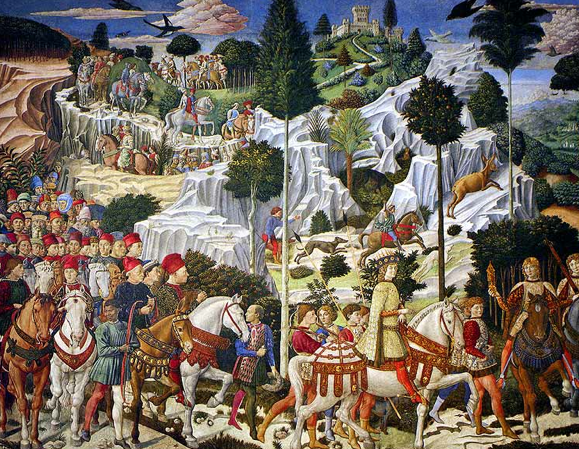 This beautiful palace is located in the city centre of Florence, exactly in Via Cavour 3.
The palace has a fascinating history, it was built in the first half  of the XVth century, projected by Michelozzo as the official Florence residence of the Medici's family. The palace has a cube shaped structure and stands imposing in the centre of the city to testify the power and the richness of the Medici, the most important and rich family in Florence at that time.
The Medici moved later to Palazzo Vecchio in Piazza della Signoria and their old residence was bought by the Riccardi 's family. In this period some renovations in Baroque style were addeded to the original structure of the building especially in the interiors.
Nowadays  Palazzo Medici Riccardi belongs to the Provincia of Florence and it is the head office of the prefecture of the city.
We do suggest to visit this palace for different reasons. The palace is the first example of city, noble palace provided with an internal garden. Actually the Medici wanted a garden in the internal courtyard of their residence to exhibit their art treasures and to delight themselves in strolling in their private city garden together with their court. Another masterpiece to admire at palazzo Medici Riccardi is Benozzo Gozzoli's chapel, so called because the little chapel is completely decorated by the artist's frescoes. Benozzo Gozzoli started studying with Beato Angelico his teacher. The frescoes depict the Magi riding towards Bethlehem; in fact the frescoes represent a great botanic scenary, full of colours, fantastic plants, exotic animals and flowers, hunt scenes, a fairy-tale landscape fleckered with castles and medieval towers. The richness of the decoration was probably inspired by Flemish arras and represents the most outstanding example of Medicean art of the first Renaissance period.
The palace can be visited every day except Wednesday from 9,00 am to 7,00 pm.
Full price ticket 7,00 euro, reduced price ticket 4,00 euro, children under 12 years and adults over 65 years, university students.
For more information, please click here
You can take a wonderful guided tour to Palazzo Medici Riccardi and Benozzo Gozzoli's chapel, organize your tour contacting info@ticketsflorence