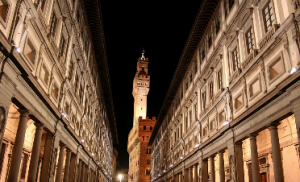 The Uffizi Gallery has planned some extraordinary, evening openings in occasion of the temporary exhibiton on Vasari, entitled "Vasari, gli Uffizi e il Duca". The exhibition is available from 5th July to 27th September and can be visited buying an ordinary Uffizi entrance ticket. To reserve Uffizi tickets, please click here!
The evening openings are planned each Tuesday in the above mentioned period from 7,00 pm to 10,00 pm e xcept for the 26th July, 30th August and 27th September.
If you want to reserve an evening entrance to the Uffizi Gallery, please contact Tickets Florence reservation office info@ticketsflorence.com, you will receive all useful information and the possibility of booking your meveing vist to the Uffizi Gallery!